In der Rubrik "Kennst Du eigentlich?" stellen wir dir Orte vor, an denen Kunst gemacht, gezeigt, besprochen oder anderweitig zelebriert wird. In 10 Fragen und 10 Antworten lernst du nicht nur die Räume, sondern auch die Verantwortlichen dahinter besser kennen.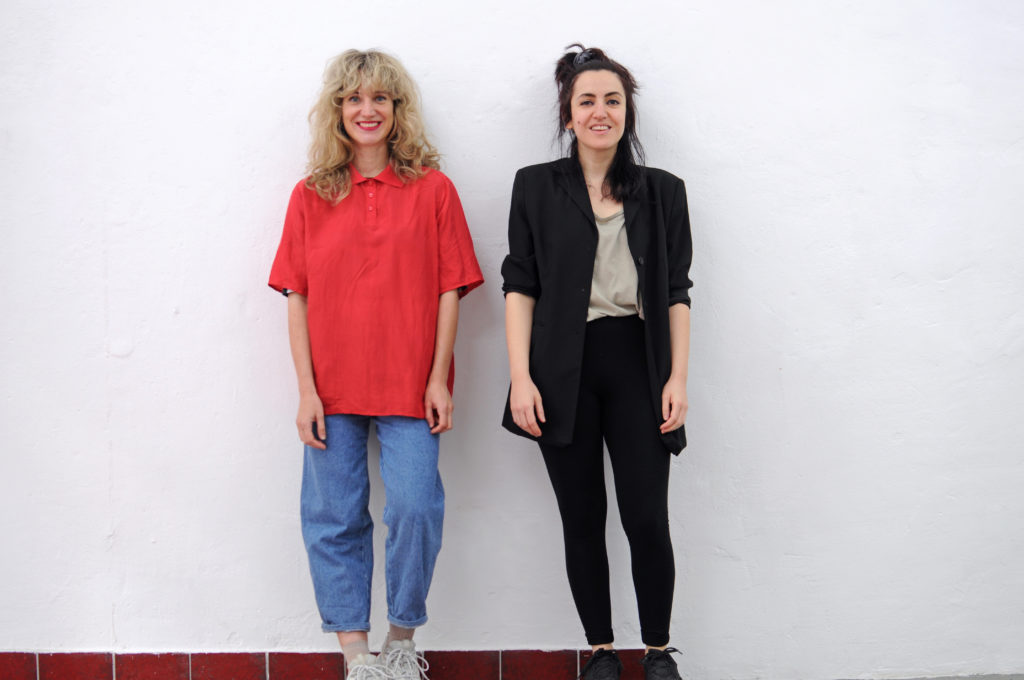 VASiSTAS:
First of all, who are you?
Centrum:
We are Jorgina Stamogianni and Katerina Gnafaki, independent curators and responsible for the programme of Centrum in 2020, after the kind invitation of Mareike Spendel who was our predecessor. Our first collaboration started a few years ago when we were working together for documenta 14 in Athens and Kassel. Our paths crossed again in Berlin, this time with the mission to offer space and support for experimentation and for the development of new work to berlin and internationally based artists.
Centrum is a contemporary art space in the Flughafenkiez district of Neukölln, Berlin. Formerly used as a retail store and brothel, Centrum's exhibition space is not a white cube, but owes its specific character to its tiled floor composed of red ceramic and grey stone tiles, and from the large shop window looking out into the street. Centrum offers a platform for the discourses in and around contemporary art as well as the opportunity to meet artists through artist talks, lectures, and film screenings. As a project space, Centrum is aware of its role and responsibility in Neukölln's advancing gentrification processes. As many of its events and exhibitions so far have primarily attracted a specialist audience of international artists and creative workers, in the future it aims to increasingly develop formats that make Centrum more accessible and inviting to its immediate, diverse, and multicultural neighbourhood.
VASiSTAS:
Where can you be found? (Principally in terms of the art space.)
Centrum:
Centrum is located in Reuterstraße, a busy street of Neukölln. We are part of a vibrant neighborhood between U Boddinstrasse and U Rathaus Neukölln. Our opening hours can fluctuate according to our projects so please make sure you check our regular website updates. It is also possible to visit our space by appointment.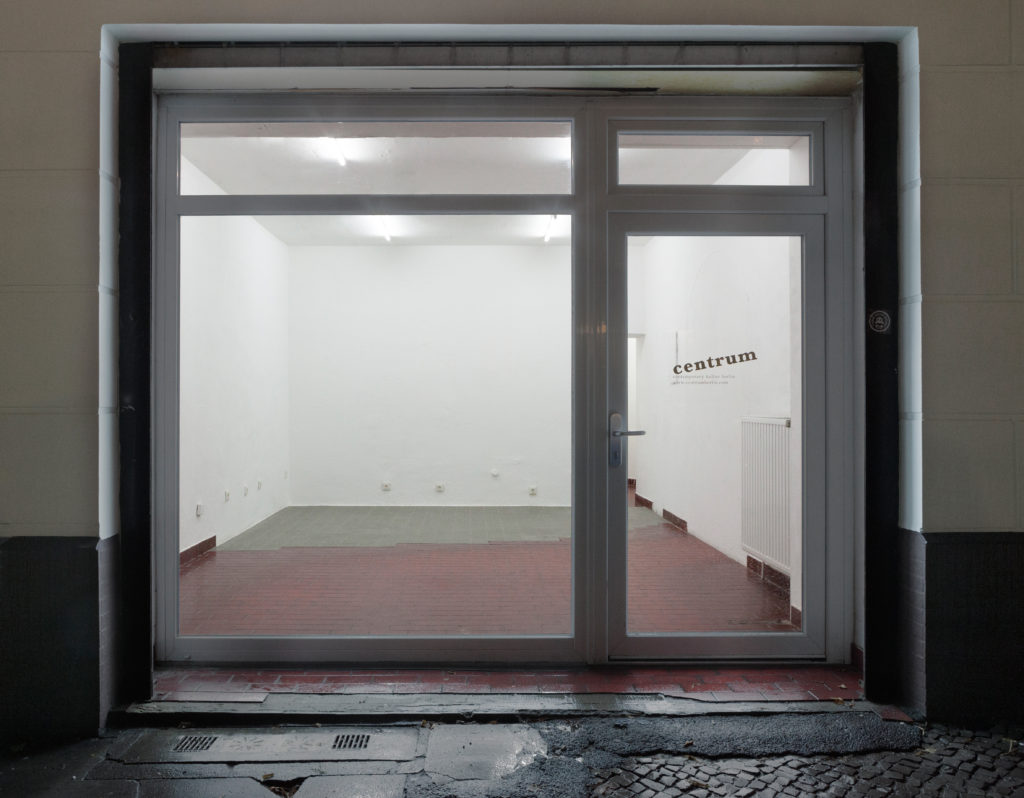 VASiSTAS:
Where can you be found when you are not in this space?
Centrum:
(Katerina)At libraries, exhibitions, festivals, and sound/experimental music performances; otherwise, I stay at home watching mubi or the criterion channel and feeding my extensive IMDb library of recently watched films. Occasionally I am to be found in my motherland, Crete.
(Jorgina) You will find me visiting exhibitions, occupying space in public libraries, in small cafes and bars around the city, at Berghain.
VASiSTAS:
Why is Berlin the best setting for your space?
Centrum:
(Jorgina) We feel extremely privileged to be running a space in a city like Berlin with such a dynamic art scene and a great concentration of artists. There is so much to explore, so many extraordinary people to meet, to share ideas and work with. But at the same time it feels as if there is a great necessity for spaces where all this creative energy can be hosted, catered for and showcased, and we are happy to be able to facilitate that.
(Katerina) Berlin is a city that has been in a state of constant flux for more than ten years already. Residential property prices are soaring, a lot of commercial galleries have moved their activities to other cities and artists are facing precarity and insecure tenancy. Yet, there is even more solidarity and resistance growing, grassroots art projects are flourishing and I feel that we are one of the many small but strong actors that keeps the artistic scene together. And it's a great feeling to manage a contemporary project space in Berlin, building up on this sense of momentum.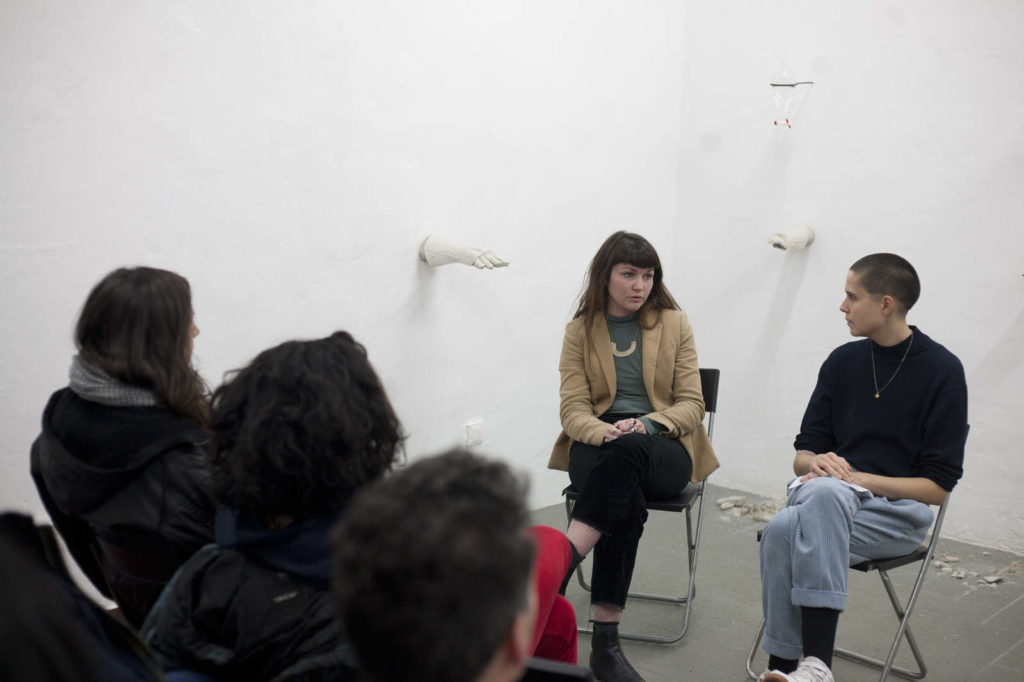 VASiSTAS:
We bet there must have been a lot of great moments during your career. Which one comes to your mind first?
Centrum:
(Jorgina) Well, I guess nothing can overshadow the experience of documenta 14. I will always remember it as a gigantic endeavor which required the collaboration of so many heterogeneous people in order to come to fruition. The amount of things I learned during that time was tremendous. It definitely made an impact on my practice, on the way I see myself and on how I work with artists. I was also extremely lucky to work close to Paul B. Preciado, observe his methodology, restless spirit and deep humanism which I will always keep as a point of reference.
(Katerina) I have had many great moments to remember not only through my work at institutions but also independently. I would rather focus on the latter as I find it important for such structures to exist where the process of production is usually organised more horizontally as opposed to the familiar hegemonic power structures and ethics that one may experience by working at an institution. Throughout the many years of working as an independent cultural manager/curator and by collaborating with many fellow curators, artists and creative practitioners alike I have learned the practice of mutual care, respect, teamwork and horizontal accountability that the contemporary art sector urgently needs.
"As a curator I draw inspiration from people, from the city, from physical characteristics of spaces, and from contemporary politics. I try to keep an open ear to what is happening, what is at stake at any given time."
VASiSTAS:
What is it about your space that makes it indispensable for the city?
Centrum:
That is actually a very good question, one that we try to pose to ourselves everyday and to keep in mind while planning our programme. We guess that what makes Centrum indispensable is it's openness, willingness to experiment with different exhibition formats and ways of coming together, as well as a genuine interest to offer space and support to young artists for showing their work. This comes with investing a lot of personal time and labor, as project spaces do require a quite idealistic and emotional approach to things, given the continuous precarity and scarcity of means and funding. We have clearly chosen to work outside the commercial realm of art which of course comes at a cost, but is at the same time priceless and rewarding in so many ways.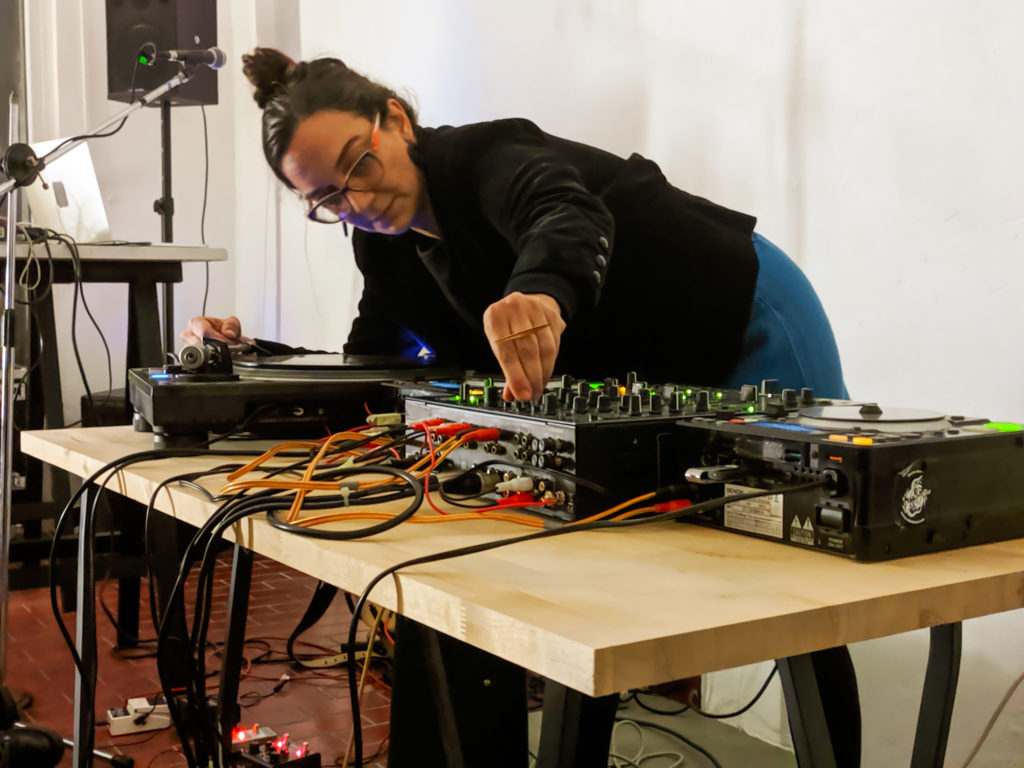 VASiSTAS:
Where do you draw inspiration from?
Centrum:
(Katerina) Films, sounds, books, humans, non humans, life.
(Jorgina) As a curator I draw inspiration from people, from the city, from physical characteristics of spaces, and from contemporary politics. I try to keep an open ear to what is happening, what is at stake in any given time. I am fond of working site-specifically and allowing my projects to take shape embarking from what a particular space or a particular artwork would require in order to be presented in its best light.
When it comes to institutions and colleagues, I religiously follow the program of Gropius Bau which has never stopped amazing me since Stephanie Rosenthal took the lead of the institution in 2018. I am also a great fan of the Athens Biennale which I always find to be refreshing, sharp and ahead of its time.
"Not worth a visit: whatever provocatively flirts with superficial tokenism, whiteness, right wing rhetorics, over-represents privileged white men and has a hidden sexist, racist or homophobic agenda."
VASiSTAS:
What is next on your to-do-list?
Centrum:
We have been working feverishly on Afterhours, a new ongoing project which was launched just a few days ago at Centrum. Afterhours is a "ghost project" consisting of a series of video works which are being shown unannounced between the end of May and October 2020. Perceived as an urban oasis or a dream-like moment disrupting the linear nature of reality, the project comes alive during the late hours of the night. The video works can only be viewed through the glass façade of Centrum overlooking Reuterstraße, while a special installation allows the sound to permeate the glass window reaching out to the people passing by, our only intended audience for this project.
Participating artists at the moment include Monira Al Qadiri, Magdalena Fischer, Elise Guillaume, Linda Lamignan, Kosmas Nikolaou, Damir Očko and Larissa Sansour, while the list will grow in the following months. You can find more information on Afterhours through Centrum's website and social media platforms.
At the same time we are working on two solo exhibitions by Mila Panic, and Konstantinos Doumpenidis, which we have had to postpone until autumn, a hopefully safer time to get together again in a physical space.
VASiSTAS:
What is a must-attend event? What is probably not worth a visit?
Centrum:
(Jorgina) Must-see: Everything that contains truth and purity of intention. Not worth a visit: Hm, I guess I would never pass judgement on anything, without first seeing it.
(Katerina) not worth a visit: whatever provocatively flirts with superficial tokenism, whiteness, right wing rhetorics, over-represents privileged white men and has a hidden sexist, racist or homophobic agenda.
VASiSTAS:
Last words? (Room for your personal fortune-cookie-wisdom.)
Centrum:
(Katerina) The part of you that feels out of control is the only part that's real.
(Jorgina) I read the following phrase as part of a manifesto written in 2018 by the curatorial team of the 10th Berlin Biennale, under the artistic direction of Gabi Ngcobo, and published in South as a State of Mind magazine. I have kept it in my head since then, and still gives me chills when I think of it:
"We refuse to die. Self-preservation is an act of political warfare."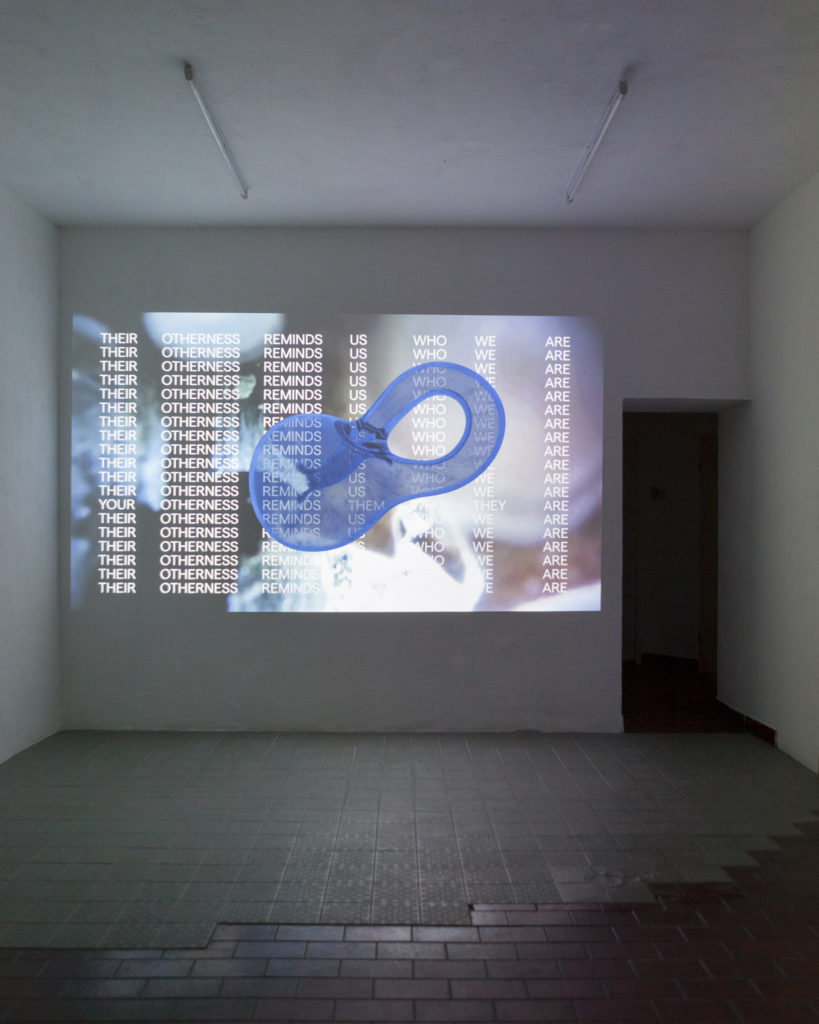 Thank you Jorgina and Katerina for your strong words!
Visit the latest show "Afterhours" till October 2020 or check their Facebook or Instagram.
Need more information? Visit their website to find out more about them.
You want to know more about another specific space!? Tell us about it!
Credits of the cover picture: Monira Al Qadiri, Divine Memory, 2019, video still, 5 min.